Contrary to conventional wisdom, building a profitable private flood product doesn't require you to climb a steep learning curve and create something completely from scratch. A better solution for many new market entrants is to partner with experts who have developed leading edge solutions, and who are ready to help you navigate the risks and hurdles of the emerging private flood insurance market.
The flood market is sizeable and accessible
The current flood protection gap in insurance coverage for homeowners represents an unprecedented opportunity for private insurers to expand their presence in the property insurance market. Milliman estimates that only 4% of U.S. single-family homes have flood insurance, leaving 96% of homeowners vulnerable to flood-related damages and highlighting the untapped potential for insurers to provide much-needed protection.
Historically, the flood peril has been considered uninsurable by most U.S. private insurers. However, in recent years the flood market has changed and is much more accessible, made possible by improved risk modeling, enhanced data collection and new developments within insurtech and the financial services industry. In 2020, private insurers reported about $735 million in direct written premiums for private flood insurance, whereas Milliman estimates the potential market for residential flood to be between $37 billion and $47 billion.
The opportunity is here right now to get into flood, but where do you start?
"Wow, I didn't know that a complete flood solution like this was even possible!"
After previewing our flood suite, this is the most common refrain we hear. Milliman is ready to provide you with a solution that is complete, modular and flexible, allowing you to quickly develop a flood offering to fit your unique risk tolerance and target market. Creating a profitable private flood insurance product can seem like an enormous undertaking, but it doesn't have to be. Having already built many ground-up flood products, Milliman's flood team has synthesized our flood wisdom, data and analytics to build a state-of-the-art flood starter kit. We then streamlined the path to implementation, reducing time and cost without losing the flexibility and sophistication you'd expect from the innovative visionaries at Milliman.
Partnering with Milliman enables you to create a flood program that puts you in the driver's seat, is optimized for success, and doesn't waste time or money. You no longer have to choose between a ready-made product that may not fit your business model or taking the significant time and effort to build from scratch.
Getting into flood shouldn't be hard. It can be easy, and we can show you the best options for your business.
For more than 70 years, Milliman has combined technical mastery with the business acumen to create customized solutions for our clients. Today, we consult with MGAs, insurers and reinsurers to develop best-in-class flood insurance programs.
The experts at Milliman know the process well and can lay it out for you. Leveraging Milliman's experts to deliver your flood program can be a straightforward way to drive a profitable, sustainable plan that fits your needs. Milliman creates tailored solutions based on key components:
People - We have unmatched expertise in all aspects of flood insurance.
Process - Our solution is designed for you to evolve.
Technology - We offer the most complete flood platform with Milliman Bungalow™, Milliman PinPoint™, Milliman Pixel®, Milliman Market Baskets™, and Milliman Appleseed.
Flood Risk Software and Solutions
Our innovative technology offers a wide range of capabilities in analyzing, operating and managing each phase of development in your private flood insurance program.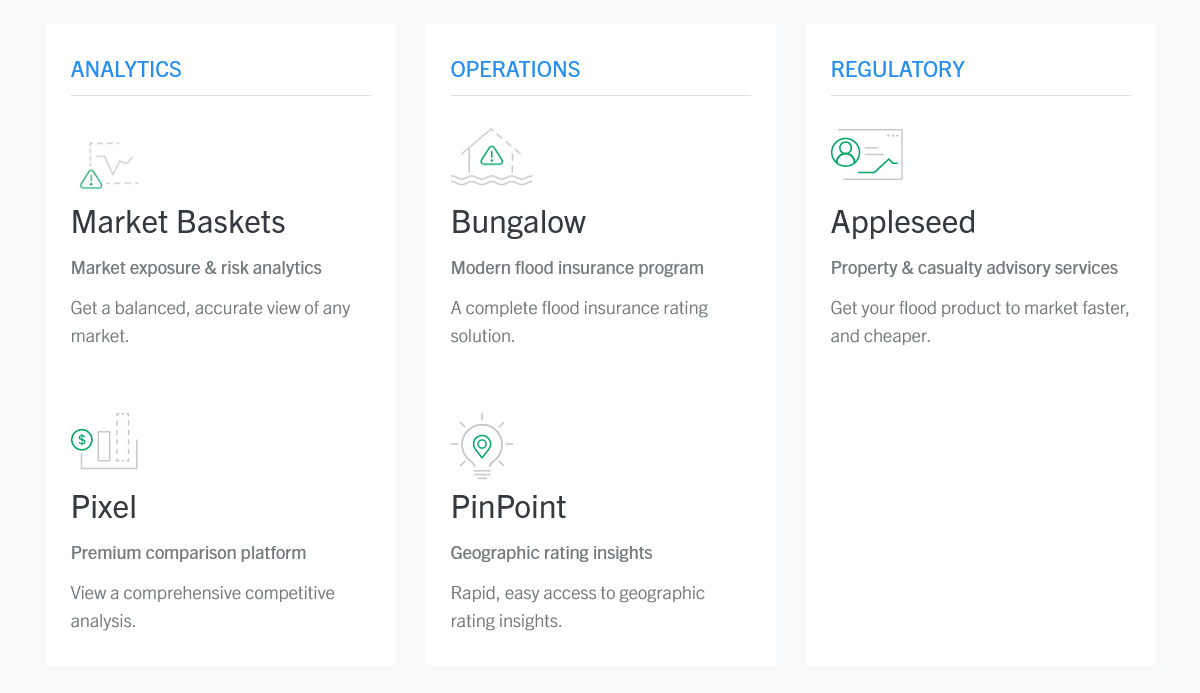 Milliman has proven to be an industry leader through the experience of working with all constituencies within the flood ecosystem. The Milliman Flood team is well versed on industry best practices, which are embedded in both in our suite of flood solutions and in the companion services our team can bring to tailor this suite to ensure success. These solutions are built to drive a flood program anywhere in the 48 conterminous states, plus Washington D.C. Each part of the solution is designed with prebuilt content, so that your flood program can be configured to work within your environment and fit your market vision and risk appetite.
Don't get swept away in a virtual flood of information. Let us help you determine the best path forward.
Wright Flood wanted to offer a better, more diversified flood insurance product with increased coverage and at more price points in order to protect more communities across the U.S. But to achieve this, Wright Flood faced business challenges such as needing actuarially sound rates for flood, entering disparate regulatory environments across states and managing key relationships with partners. Find out how we navigated these waters together to drive success.
Partnering with Milliman
Milliman's Flood Suite offers an "out-of-the box" product complete with rates, rules, and forms including regulatory pre-approval. A prebuilt application program interface (API) for geographic information systems (GIS) appends and premium calculations provides unique flood-specific risk data that addresses the hyper-local nature of flood and makes integration to your systems easy. Also, the analytic tools and unique flood data provide spot-on market analysis for confident rollout planning. Together these capabilities empower insurers to make optimal decisions about taking on flood risk. You can drive profitable growth with visibility to target and adjust your best flood product(s) into your best segments.
Milliman has leading flood experts:
Private flood product development for admitted/E&S insurers, reinsurers, and MGAs
Leaders in flood regulatory research
Lead actuaries for FEMA on NFIP Risk Rating 2.0 and other state entities like NCRB
We know how to help you succeed within the whole flood ecosystem
Milliman is the industry leader in flood product development, with unmatched experience and solutions across the insurance industry

The reality is that insurers have a unique opportunity to address a growing need to serve their customers, with more confidence and speed than ever before. Right now, the greatest risk insurers face with respect to the huge and growing flood risk is the risk of doing nothing. Given the many options available, more and more insurers are realizing that now is the time to get into the flood space.