Article originally posted at: Inside P&C
Climate change and the industry impact from the rising frequency of severe events have dominated early renewal discussions in the past month and, three weeks after historic flood damage hitting the Northeast, more executives are speaking up about the need to expand flood coverage beyond high-hazard zones.
"Hurricane Ida really showed that floods can be massive events for those not in a flood zone," said Martha Bane, property practice leader at AJ Gallagher. Her comments echoed those made by many executives as among the biggest early takeaways from Ida, and other storms that have impacted the industry in recent years.
Executives point to myriad obstacles that have limited expansion of flood coverage, ranging from regulatory roadblocks, the slow development of commonly used models to establish consistent views of risk, and the difficulty the private market has had in competing with the National Flood Insurance Program (NFIP).
Added to the list is the fact that many residential and small business insureds are unaware of the narrow coverage they have in place, or that they lack coverage altogether.
The latest data from NFIP shows 4.8 million policies in force in 2019, equating to $3.6bn in written premiums, while the private market wrote $735mn in premium across 175 carriers. Actuarial consulting firm Milliman believes only 4% of single-family homes in the US have flood coverage, while market sources have pegged the take-up rate at 25%-30% in the commercial market, mostly concentrated in the most hazardous zones.
The problem, many executives have pointed out, is that major flooding events occur outside of the most hazardous zones, as rated by the US government's Federal Emergency Management Agency. One executive referred to a statistic that indicated every county has had a major flood loss in the past 100 years.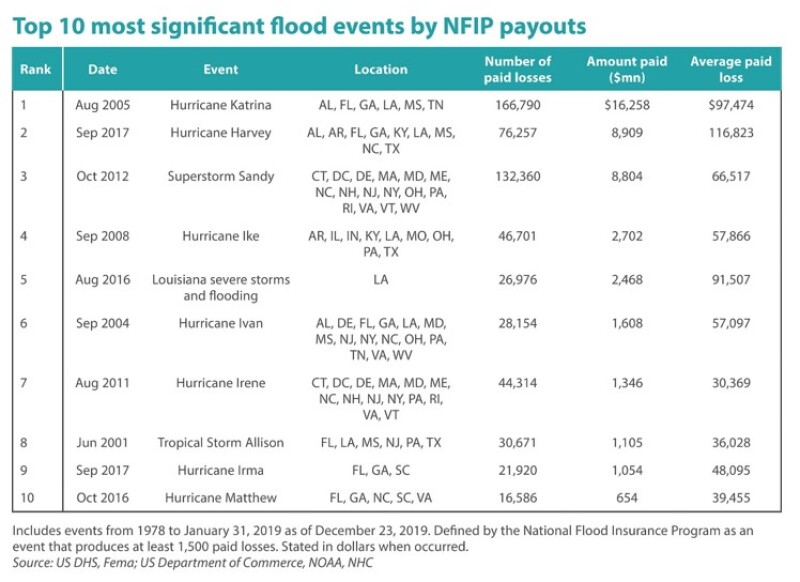 Milliman principal Nancy Watkins estimated that if all US households purchased flood coverage, the market could balloon to around $37bn in premium. That would represent a 40% increase on top of the existing $110bn homeowners' market.
Last week, modeling agency RMS gave the latest loss estimate for Ida, projecting that the event will cost the industry between $31bn and $44bn, after adding $6bn-$9bn in additional losses to account for inland flooding impacting the Northeast.
While the toll of industry-insured losses from the storm have crept higher in recent weeks, (re)insurance broker Aon said Ida is likely to rank among the costliest storms ever to hit the mainland US.
Ida raises risk awareness
Ida is only the latest event to expose the extreme loss potential of flooding outside the most hazardous zones.
One executive estimated that 30% of flood losses occur outside of high-hazard zones, while noting that flood is the highest cause of loss in the US.
"Most people don't want to spend the $200 or $300 it would take to insure their home for flood in an area that's not at severe risk for flood," said Nick Steffey, the former Narragansett Bay CEO who recently launched residential flood MGA ShoreOne.
"Over half the losses weren't in severe flood zones, and most of those people had no flood insurance. And most of those people could have gotten flood for $200 or $300."
Market sources have reported that, despite indications from NFIP that its new rating plan would result in rate increases of no more than 10%, policyholders have already received quotes where rates have jumped by 30%-40% from expiring policies, pushing more of the flood program's buyers to the private market.
Brokers have long pointed to limitations in the NFIP coverage, such as the absence of business income coverage, replacement cost coverage, and limits of up to only $500k for commercial and $250k for residential. Many policyholders affected by Ida were also surprised to learn their policies lacked coverage for basements, temporary living expenses and outbuildings.
Steffey called raising insurance buyers' awareness of flood exposure outside of the most hazardous zones the industry's "challenge for the ages".
"It continues to be surprising how many people think they have insurance, and have none," he said.
Private market solutions have afforded insureds more flexibility, such as allowing commercial insureds to add as many as 20 locations to a single policy.
"There's a big gap, and hopefully more and more people will try to fill it," Steffey said.
With many executives participating in (re)insurance renewal discussions colored by the topic of climate change and the rising frequency of cat events, industry leaders have highlighted the limited penetration of flood coverage as an urgent problem for the market to solve.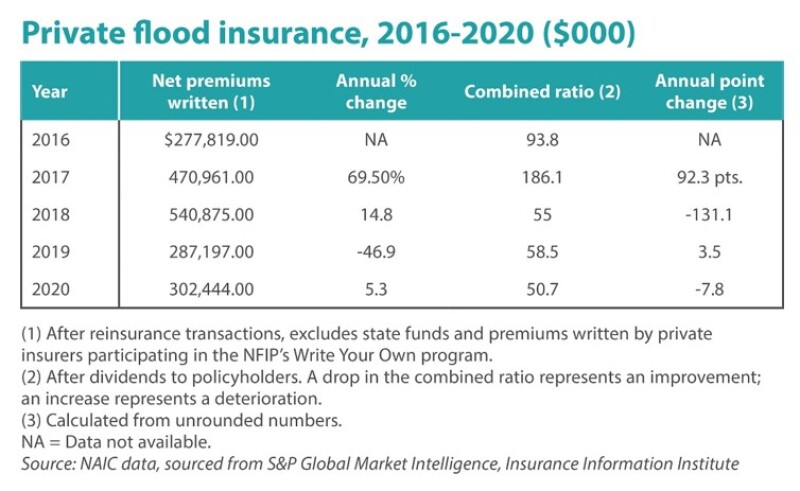 "Increasingly, the weather patterns are showing – like Ida – where you could have a very significant hurricane where over half of the damage is in places that are not in severe flood zones," said Steffey.
"We may be missing the bigger picture: that all homes should have insurance and most of them wouldn't pay very much," he added.
Christa Nadler, executive vice president at wholesale broker Risk Placement Services (RPS), said that despite the prevalence of flood events in the news, there isn't a lot of take-up for flood coverage for properties.
"We have to do a better job as an industry of educating our clients on the fact that they might have properties that fall into those [flood] zones, or gets remapped during the course of the year and is now in a zone that gets excluded," she commented.
Infrastructure, demographics and climate change
Numerous executives warned that the scope of uninsured economic damages caused by severe inland flooding is likely to increase, owing to country-wide infrastructure that is woefully outdated, shifting demographics towards more flood-prone areas, and the forces of climate change that give rise to heavier precipitation events.
Erick Davidson, a cat modeling manager at Everest Re, said that increased flood losses were the leading edge of climate change's impact on the industry and the economy more broadly.
"Flood risk is increasing," he commented, noting that he and his colleagues had "very high confidence" that changes in climate had led to a higher frequency and intensity of the heavy precipitation events that caused pluvial and fluvial flooding. "And that's both from an exposure and from a hazard perspective."
"Between climate change, more construction and less open space for the water to go, we're seeing a lot more flood losses," RPS's Nadler said. "We don't have the big detention ponds that we had before, where the run-off, instead of running off into an empty field, that empty field is now a big housing development.
"It's going to end up in the basements or first floors of those homes."
Milliman's Watkins added: "There's clearly a need for infrastructure improvements to be able to address this increase in precipitation, and not just for the footprint of Ida, but also for a lot of other places."
Supply vs demand
Outside of forced purchases, executives commonly describe a mismatch in the market between supply and demand, whereby ample capacity in the private market is available but many insureds view flood coverage either as either cost-prohibitive or unnecessary.
Much of that can be attributed to a wide divergence in views of risk. Modeling for inland flooding is relatively new and no single market standard has taken hold. Underwriters largely rely on proprietary modeling, with varying levels of granularity, that requires substantial investment to develop.
"Many insureds don't know what their flood exposure is not because they don't understand their risk, but because they don't understand their exposure units. They don't capture those," said Everest's Davidson.
He explained that beyond the effects of climate change, key exposure details such as the number of storeys a building has takes on much greater importance in understanding flood exposure than it might to historically more common forms of insurance.
"Industry norms of what is being captured need a lot of work," he added.
Given the data intensity required to adequately price for the peril, many carriers are content to offer "write your own" policies through the NFIP, where rates have proven to be historically inadequate, and many have criticized the breadth of coverage.
Bane said the biggest price divergence in the market for high-hazard flood risks exists between standard markets and E&S markets, where E&S risks benefit from flood limits being included with other catastrophe coverages. Standard markets are more reliant on reinsurance to offer more capacity, which adds to the coverage's cost.
"They tend to benefit from some price savings," Bane said of clients with programs in the E&S market. "You're getting flood at a discounted rate because there's more premium there to offset some of the catastrophe coverage they're providing."
In most cases, standard lines carriers providing insurance to smaller insureds with less sophisticated risk management operations do not provide coverage in the most hazardous zones, or only on a limited basis.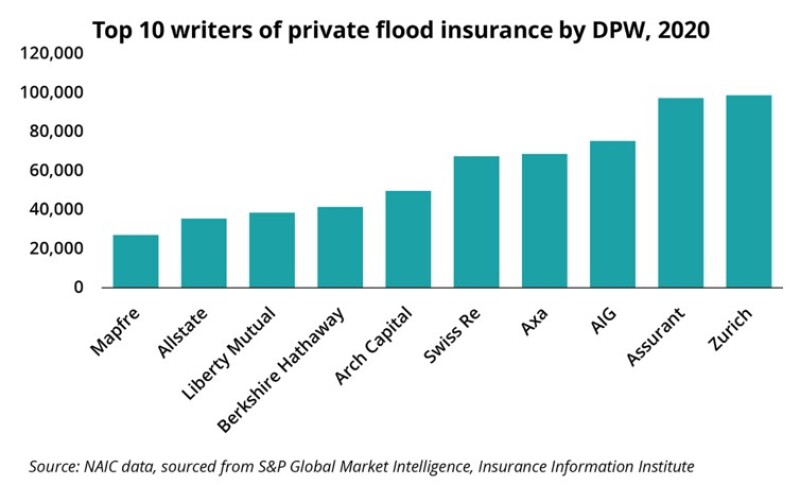 Gallagher's Bane cited "not having an educated scientific discussion" with clients as the most significant factor in limiting broader take-up of flood coverage, emphasizing how valuable modeling has been in helping clients to make buying decisions.
The broking executive called the development of flood modeling in recent years a "game-changer" that allows the broker and its clients to evaluate the need for additional flood coverage beyond that offered in the standard market.
Executives said that while it was too soon after Ida for the event to have yet generated a significant spike in interest in flood coverage, demand has increased substantially in regions impacted by past events – such as after the historic flooding from Hurricane Harvey. It is thought that Ida will likely be no different, with a greater number of flood submissions expected over the next six months.
However, some executives suggested the firming market conditions, coupled with the economic toll of the pandemic, would make it more difficult to project higher adoption of flood coverage in the near future, with insureds' budgets already constrained.
More demand among buyers beyond the toughest hazardous zones would be key to the market expanding over time.
"I hope Ida is a wake-up call for those saying this isn't an important coverage," she continued. "It can happen more than just in Louisiana, Florida and Texas. It can happen anywhere."